Affordable Tree Service and Stump Grinding
We provide affordable tree service and tree removal to customers in Raleigh and surrounding areas. (Cary, Apex, Morrisville, Fuquay Varina, Holly Springs, Willow Spring, Garner, Clayton) If you don't see your city, make sure to ask us, if the job is large enough we sometimes travel a few hours.
Our range of services include:
. Tree Removal
. Stump Grinding
. Pruning and Trimming
. Tree Climbing
. Hazardous and Dangerous Tree Removal
. Storm Cleanup
. Lot Clearing
. Emergency Tree Service
. Small and Large Jobs
Servicing residential, commercial, and HOA clients, we will come to service your home or business for small or large trees. We are owner operated and We Always Answer The Phone. 
Before you make a final decision on what company to use, give us a call.
Payment Options:
. Check
. Cash
. All Credit/Debit Cards
Insurance:
(We carry $2, 000,000 in general liability insurance)
Safety 1st:
Very important to us and is actually our number one concern. We start with us, by wearing state of the art tree climbing safety gear, from our helmets to our saddles etc. We use top of the line Stihl commercial grade chainsaws for better and faster results. If we don't care for our safety first, how can we say we care for our customers safety.
The owner and climber Kenny Sanchez is on every job to make sure everything is done safely and we can provide our customers with a professional and stress free tree service/tree removal service.
Some of the reasons customers contact us for Tree Removal.
Dead tree or dying
Dangerous or hazardous tree
New construction and tree needs to be removed
Tree is obstructing view and cannot be fixed by pruning
Replacing tree for a more desire specimen
Customer wants tree gone for any other reason
Some of the reasons customers contact us for Tree Pruning and Trimming
Remove dead branches
Remove rubbing or crowded limbs
To increase air penetration or light to the canopy
Diseased, weak, dead limbs
I look forward to working with you!
Owner/Climber: 
Kenny Sanchez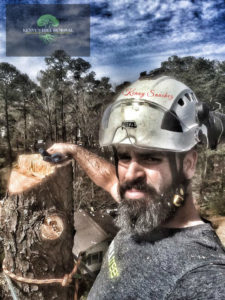 Give us a call or fill out our form.